Up in Smoke Pork Tenderloin with Lemon Kale & Potatoes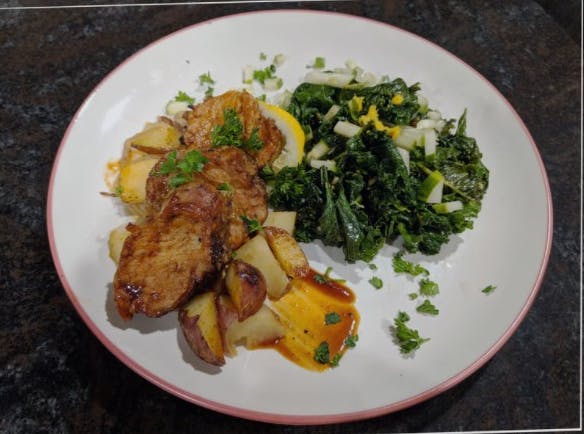 PRINT RECIPE
Yield: serves 6 to 8
Prep Time: 20 minutes
Cook Time: 8 hours
Total Time: 8 hours 20 minutes
SLOW COOKER BBQ PULLED PORK RECIPE
INGREDIENTS:
1 1/4 teaspoon salt
1/2 teaspoon black pepper
1/2 teaspoon cayenne pepper (optional)
2 teaspoons garlic powder
2 teaspoons onion powder
2 Tablespoons paprika
1/3 cup cider vinegar
1/2 cup packed light brown sugar
1 teaspoon tomato paste
5 garlic cloves, smashed, peeled & minced
2 Tablespoons vegetable or grapeseed oil
1 medium onion thinly sliced
5 pounds boneless Blade Pork Roast (shoulder)
DIRECTIONS:
Mix salt, black pepper, cayenne pepper, garlic powder, onion powder, and paprika together in a small bowl. Measure out all other ingredients and prep garlic and onions. Add onions to the bottom of the slow cooker. Whisk together cider vinegar, brown sugar, and tomato paste. Add garlic cloves and mix, set aside.
Rinse pork and pat dry. Trim fat off pork and cut it into 4 or 5 pieces. Add spice rub mixture to pork pieces. Add a little bit of oil to the pork pieces and rub them in. Add remaining oil to the vinegar mixture and whisk. Add pork to the slow cooker on top of the onions and sprinkle any remaining spice rub mixture on top. Pour vinegar mixture on top.
Cook pork on low for 8 hours or on high for 4 hours. Once the pork is finished in the slow cooker, turn the slow cooker off and remove the pork and place it on a plate and loosely cover it with foil. Allow the pork to rest for 15 minutes.
Using a spoon, skim the fat from the juices in the slow cooker. Using two forks, shred or pull the pork. Add the pulled pork back to the slow cooker, mix with tongs and turn the slow cooker on warm. Serve immediately on dinner rolls or hamburger buns.